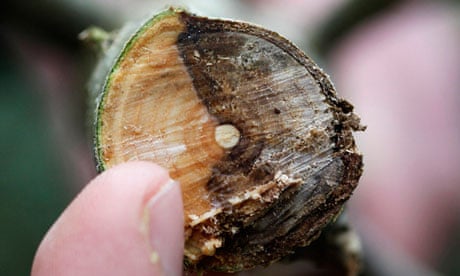 On 21st September I attended a presentation organized by the FC at Bedgebury Pinetum from Iben Margrete Thomsen from University of Copenhagen titled "Ash Dieback: a forest threat with limited impact in urban areas and the open landscape."
One of the most informative presentations on Ash Dieback I have been to. It was a presentation of 2 halves, the first concentrated on plantations and woodlands and the Foresters view point.
There is no doubt Chalara is bad news for foresters; it leaves trees open to secondary infection from things such as honey fungus, stops incremental growth in its tracks and quickly reduces the timber value so that it useless for all except fire wood. Even worse, the natural regeneration and young plantings die rapidly from Chalara infections, and thus the future ash forests are lost.
Iben M. Thompson states:
"Our rules of thumb are that ash below age 10 dies whether in forests or outside, only Chalara needed. Ash up to age 40 dies rapidly in forests (Chalara and Armillaria combined), fairly often in the landscape (depending on site conditions, but still slower and in smaller numbers than in forests) and occasionally in urban environments (already stressed trees). Older ash deteriorate quite fast in forests (older and larger trees slowest), occasionally in landscape and urban settings. This applies once the disease is established and widespread, like I've seen in some areas of Kent during my visit. And of course trees with partial resistance will last longest, and after about ten years of severe impact the non-susceptible trees will stand out".
"It's a disaster in forests but less fatal in towns and the open landscape" reports Iben M. Thomsen. She explains that in towns and cities leaf litter is removed more often than not, dryer conditions means fewer fruiting bodies and suboptimal infection conditions, less risk of basal infection, and no secondary damage agents such as honey fungus or ash bark beetles.
Iben M. Thomsen pointed out that for urban and road side ash trees it is mainly young ash trees which are affected and may die, the older ash trees may deteriorate with occasional death but it can take years for the trees to die. But she also showed us examples of completely unaffected ash trees in Copenhagen.
It is also worth remembering that just because an ash is dying back it may well have nothing to do with Chalara. Iben Margrete Thomsen has investigated many cases of ash dying where the cause was not only linked to Chalara. However, ash trees stressed by other factors will be hit harder by the disease, which may become the final straw, since it kills the most vital parts of the crown.
A good tip was that young ash trees show Chalara dieback symptoms first, if it is not in the young trees it will not be in the old either, so inspect the younger trees first. Another point is that the dieback fluctuates, so trees may look sick one year and healthy next year when new shoots have filled out the crown.
A strong message from the presentation is don't fell to soon.
"Preserve ash trees in cities and along roads and in the landscape for as long as possible, keeping safety in mind."
It is worthwhile pruning out dead branches rather than felling and only remove trees when the tree is either dead, dangerous (eg due to honey fungus in the roots) or no longer of value in the landscape.
So what of the future for ash, she encourages using resilient species such as F. ornus and F. americana. Hopefully, non-susceptible clones of F. excelsior will become available in the future.
For me what I took away is that it is not all doom and gloom as was reported a couple of years ago in the popular press. Not all our ash trees are going to die, we should not panic and should manage and maintain our ash in exactly the same way as we have been doing for years just like any tree, inspect, carry out remedial works and when the time comes which could be many years down the road, remove them when they become hazardous.
Don't make the mistake as some in Demark did and removed their ash tree too early and are now thinking I wish we had not been so quick to fell.
Iben Margrete Thomsen has kindly provided her presentation that can be found here and I hope that we can organise for her to present at one of our LTOA seminars.
Are you looking for research funding in 2015? Can Fund4Trees help?
Since 2011, Fund4Trees (F4T) has raised substantial funds and our focus is to allocate the money to innovative, practice-based grants and bursaries (see application details in box below).
To date F4T has part funded a high-powered microscope for Forest Research to better investigate acute oak decline and has contributed to the Trees & Design Action Group's publication Trees in the Townscape: A Guide for Decision Makers. We will consider projects big and small for funding, as long as they meet F4T's charitable objectives, which are to support sustainable treescapes by:
1. promoting for the benefit of the public the conservation, protection and improvement of the physical and natural environment by promoting sustainable treescapes.
2. advancing the education of the public in the conservation, protection and improvement of trees in the physical and natural environment.
3. advancing research for the public benefit in all aspects of trees and to publish the useful results.
Fund4Trees is modelled on the Stihl Tour de Trees (stihltourdestrees.org) and was established in 2011 to organise fundraising events within the UK to raise money for UK-based urban tree research/best practice. Since that time a number of successful sponsored city bike rides have been organised – for example, in London, Birmingham and Glasgow – with well over 100 riders.
Fund4Trees is managed by a Board of Trustees with an independent Research Advisory Committee (RAC). The committee's role is to evaluate the scientific merit of research proposals/bursaries and to advise the Board in regard to its funding. The RAC comprises a mix of research specialists and practitioners – Jon Banks, Jeremy Barrell, Roland Ennos, Gabriel Hemery, Jon Heuch and David Lonsdale. Jon Banks is the newest member of the team: he is the plant diagnostician for the Bartlett Tree Expert Company Ltd, has been involved in Bartlett research at the University of Reading since 2010 and is a member of the London Tree Officers' Association's Biosecurity Working Party.
"Arborists this is our industry and we look forward to your grant and bursary submissions so that Fund4Trees monies can be directed at worthwhile best-practice projects to enhance arboriculture within the UK".
Grants and Bursaries
Fund4Trees offers research grants of £5,000 and bursaries of £500. Consideration will be given to all applications from those working in the arboricultural and forestry sectors.
For more information about how to apply, visit http://fund4trees.org.uk/grants-and-bursaries.